If you live in Omaha NE or the surrounding area and are in need of residential roofing services, give us a call today for a free estimate. We provide residential roofing services including roof repair, roof replacement, roof installation, and more!
We have an experienced crew on hand to assist you with your residential roofing needs. We have been in the roofing industry for over 20 years, always striving to help families complete their roofing projects in a professional and timely manner.
Our residential roofing services will help protect your family's investment while providing the comfort you deserve. Our residential roofing professionals will complete work on time and within budget while utilizing the best industry practices and techniques on every residential roofing project.
We offer a variety of residential roofing options including: 
Asphalt Shingles
Concrete Tiles
Clay Tiles
Wood Shake
Composite Shingles
Stone Coated Metal
Metal 
And More!
We will ask you a number of questions during the initial estimate, while documenting everything appropriately, to offer you the fairest quote possible. Because we care about our customers' needs, we always provide an estimate that is tailored to meet their specific requests. Our residential professionals will get the job done right so you live comfortably in your home.
We're here when you need residential roofing in Omaha NE.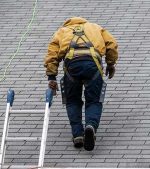 Get started on your residential roofing project today by speaking with one of our specialists to schedule a free estimate. Simply fill out our contact form, and we'll get back to you as soon as possible. We can't wait to work with you!
Carolann Franklin
August 18, 2021.
Impressed with the new metal roof they installed on my home. It's very chic and is supposed to last a very long time.
Irma Booker
August 14, 2021.
Just want to say thanks to this roofing company for a job well done on my roof repair! I had extensive hail damage that they took care of for me like it was nothing. And they did a great job cleaning up after themselves
Adeline Hernandez
August 7, 2021.
Highly recommend them to any businesses in Omaha NE needing commercial roofing services. Easy to work with
Jennifer Sowell
August 4, 2021.
C&S does great work. Shane is an awesome guy with tons of knowledge about the roofing industry. I completely trusted him with my roof repair.
Ingrid Garrett
July 30, 2021.
Very happy with my new metal roof!
Howells Henry
July 13, 2021.
Best roofing company in Omaha