C & S Roofing is here to help when you experience storm damage to your roof. We offer storm damage restoration services in Omaha NE, including 24 hour emergency tarping services.
Storm damage restoration is our speciality, with over 20 years of experience. If you have damage to the roof of your home or business, you should call our team as soon as possible. Most storm damage is caused by rain, wind, or hail. Our team of professionals can expertly diagnose the extent of your storm damage to provide you with the best repairs possible. Don't wait! We will arrive at your property as quickly as possible, any time of the day or night, ready with tarps and proper equipment.
We strive to offer our clients the best service possible, while completing storm damage repairs in a timely manner so that you can return to normal life quickly. Our storm damage restoration services include:
Insurance Claim Support
Emergency Tarping
Leak Detection
Wind damage repair
Hail damage repair
Water damage repair
Fire damage repair
And more!
We understand filing an insurance claim for storm damage repair can be a real headache on top of dealing with a restoration project. That's why always complete proper documentation and assist you in filing your insurance claim. We are experienced with dealing with insurance companies, so we can help you file your claim in a timely manner.
We're here when you need storm damage restoration in Omaha NE.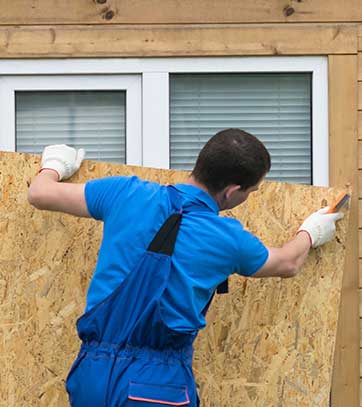 Get started on your storm damage restoration today by speaking with one of our specialists to schedule a free estimate. If you're in need of emergency services, please give us a call at (402) 502-5559. Otherwise, simply fill out our contact form, and we'll get back to you as soon as possible. We can't wait to work with you!